By Mark Wiletsky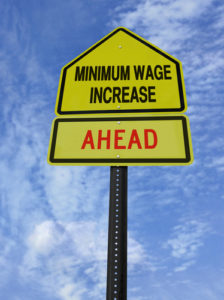 On January 1, 2017, the new minimum wage for employees working on covered federal contracts will be $10.20 per hour, up five cents from the current hourly minimum of $10.15. An even bigger increase will go into effect for tipped employees working on or in connection with covered contracts as the tipped-employee minimum cash wage goes up from $5.85 to $6.80 per hour.
Inflation-Based Increases
According to President Obama's 2014 Executive Order establishing a minimum wage for employees working on federal contracts, and the Department of Labor's (DOL's) corresponding regulations, the annual minimum wage for non-tipped employees increases based on the percentage increase in the Consumer Price Index for Urban Wage Earners and Clerical Workers (CPI-W), as published by the Bureau of Labor Statistics, rounded to the nearest five cents. The annual percentage increase in the CPI-W over the past year was 0.287% which would raise the minimum wage rate to $10.18. Because the hourly rate must be rounded to the nearest multiple of five cents, the new rate beginning January 1, 2017 will be $10.20.
For tipped employees, the Executive Order requires that the minimum cash wage increase by $0.95 (or a lesser amount, if necessary) until it reaches 70% of the contractor minimum wage for non-tipped employees. For 2017, the hourly cash wage for tipped employees will go up by $0.95 cents to $6.80 per hour. Employers must remember that at all times, the amount of tips received by the employee must equal at least the difference between the cash wage paid and the Executive Order minimum wage. If the employee does not receive sufficient tips, the contractor must increase the cash wage paid so that the cash wage in combination with the tips received equals the Executive Order minimum wage.
Required Minimum Wage Notice
Covered federal contractors are required to inform all workers performing on or in connection with a covered contract of the applicable minimum wage rate under the Executive Order. The required notice may be met by posting the free poster on Federal Minimum Wage for Contractors provided on the Wage and Hour Division's website. As with all employment law posters, this notice should be displayed in a conspicuous place at the worksite.