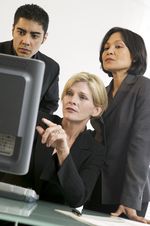 Does your company request that your employees and applicants provide user names and passwords to their personal social media accounts?  Do you require applicants to log onto their online accounts in your presence so that you can view their content?  Perhaps you ask employees to "friend" their supervisors.  If you haven't followed new developments in state employment laws, you may not realize that such activities are unlawful in some states.  In just two years, eleven states have passed social media privacy laws that prevent employers from accessing employees' and applicants' personal online accounts.  Each state law differs in certain respects, making it difficult for multi-state employers to adopt a uniform and consistent social media policy.  To help sort things out, we highlight here the primary differences in the state social media privacy laws. 
States with Workplace Social Media or Internet Privacy Laws 
The eleven states that have enacted social media or internet privacy laws affecting employers to-date are:  Arkansas, California, Colorado, Illinois, Maryland, Michigan, Nevada, New Mexico, Oregon, Utah and Washington.  All but one of these states protect the access information for both current and prospective employees, with New Mexico only protecting the log-in information of applicants. 
Differences in State Social Media Laws 
Generally, all of these states prohibit an employer from requesting or requiring an employee or applicant to disclose his or her user name, password or other means of accessing his or her personal social media accounts. Many of these states also make it unlawful to discipline, discharge, discriminate against or penalize an employee, or fail to hire an applicant who refuses to disclose his or her access information to personal social media accounts.  However, that's where the uniformity in the laws generally ends.  The following chart highlights numerous key differences between the state laws. 
| | |
| --- | --- |
| Legal Provision | States Recognizing Provision |
| Prohibits employers from requesting that employee add employer representative or another employee to his or her list of contacts (e.g., "friend") | Arkansas, Colorado, Oregon and Washington |
| Prohibits employers from requesting employee to access his or her personal social media account in the presence of the employer ("shoulder surfing") | California, Michigan, Oregon and Washington |
| Prohibits employers from requesting employee to change the privacy settings on his or her personal social media accounts | Arkansas, Colorado and Washington |
| Specifically permits employers to view and access social media accounts that are publicly available | Arkansas, Illinois, Michigan, New Mexico, Oregon and Utah |
| Exception when access required to comply with laws or regulations of self-regulatory organizations | Arkansas, Nevada, Oregon and Washington |
| Exception for investigations of employee violation of law or employee misconduct | Arkansas, California, Michigan, Oregon, Utah and Washington (Colorado and Maryland limit this exception to investigation of securities or financial law compliance) |
| Exception for investigation of unauthorized downloading of employer's proprietary, confidential or financial data | Colorado, Maryland, Michigan, Utah and Washington |
| Inadvertent acquisition of personal log-in information while monitoring employer systems not a violation but employer not permitted to use the log-in information to access personal social media accounts | Arkansas, Oregon and Washington |
As you can see, the differences in the laws exceed the similarities, making it difficult for an employer operating in more than one covered state to comply with all applicable provisions.  Even the definition of covered social media accounts varies by state, creating even more inconsistencies. 
Would a Federal Law Help? 
With eleven laws in place and almost 20 additional states considering social media privacy bills, the issue seems ripe for a federal bill that would bring some uniformity to the protections offered to employees and applicants.  In February 2013, the Social Networking Online Protection Act, which offers such workplace protections, was introduced into the U.S. House of Representatives.  Unfortunately, it has languished in committee and is not expected to pass.  In addition, a federal law on the issue will likely only simplify the web of state laws if it specifically preempts state law.  Without federal preemption, we might face two sources of law on the issue, federal and state, which might muddy the waters even more.  In any event, it does not appear that a federal law will be enacted before additional states enact their own laws, leaving employers to struggle with the variances in state law. 
Best Practices for Complying with Social Media Privacy Laws 
With the vast amount of information available on social media and the increased use of social networking platforms for business purposes, it is likely that most employers will at some point need to access or review content on an employee's or applicant's social media account.  Perhaps it will be for an investigation of an employee who downloaded proprietary information or perhaps it will be to confirm derogatory statements about the company made by an employee.  Whatever the reason, the first step is to recognize that these laws exist and you will need to review which, if any, apply to your company and/or the employee involved.  Remember that you are generally free to access publicly available social media content.  However, if one of these state laws applies, consult with legal counsel before accessing (or requesting access to) any personal social media accounts to determine what restrictions and exceptions are applicable to your particular circumstances. 
Establish a social media policy specifying that employees are not permitted to disclose or post proprietary or confidential company information on their personal social media accounts.  Make a clear delineation between company/business-related social media accounts where you control who speaks on behalf of your organization, and personal accounts where employees do not represent the views of the company. Be careful that your social media policy does not run afoul of the National Labor Relations Act by interfering with employees' right to discuss their wages and working conditions in a concerted manner.  Communicate your policy to your employees through normal channels, such as your employee handbook, online policy/intranet, etc. 
Train your supervisors, managers and human resources staff on these laws.  Sometimes supervisors or HR folks think it is acceptable to ask an employee to "friend" them online, or to ask for their log-in information to view pictures or other benign posts.  Despite good intentions, company representatives could get you into legal trouble so advise them of these laws and your restrictions on requesting access to personal social media accounts.
---
Disclaimer: This article is designed to provide general information on pertinent legal topics. The statements made are provided for educational purposes only. They do not constitute legal advice and are not intended to create an attorney-client relationship between you and Holland & Hart LLP. If you have specific questions as to the application of the law to your activities, you should seek the advice of your legal counsel.