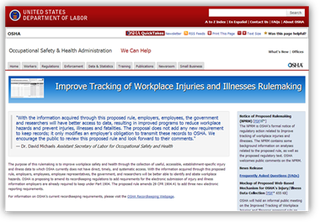 By Cole Wist 
An employer generally is not required to submit workplace injury and illness data to the Occupational Safety and Health Administration (OSHA) unless the employer is subject to an OSHA inspection, has a fatality or multiple hospitalization event or is part of the OSHA Data Initiative.  Even so, only limited data collected by OSHA is readily available to the public, absent a specific request under the Freedom of Information Act (FOIA).  OSHA is proposing to change that by requiring employers to submit workplace injury and illness data to OSHA electronically and by making the data available to the public via a searchable online database.  
Proposed Rule to Require Electronic Submission of Data 
In a recently proposed rule, OSHA seeks to require employers to submit injury and illness records electronically as follows: 
Non-exempt employers with 250 or more employees would be required to submit information from the required Part 1904 injury and illness records on a quarterly basis;
Non-exempt employers with 20 or more employees who are in certain designated industries would be required to submit information from the OSHA annual summary form (Form 300A) on an annual basis; and
As otherwise notified by OSHA. 
OSHA states that its proposed rule does not add or change any obligation to complete and retain injury and illness records under Part 1904.  Instead, it modifies certain employers' obligations to transmit information from these records to OSHA. 
OSHA has provided a mock-up of the secure website to be used for data collection. After registering with the site, employers would be provided a login ID and password.  The website would permit direct data entry as well as batch file uploads. 
Searchable Online Database for Public Access to Employer Data 
OSHA also proposes to make public the data it collects from employers.  Although it states that certain data elements will be restricted from publication under FOIA, the Privacy Act and specific provisions within Part 1904, OSHA proposes a searchable online website that would include the following data submitted by employers: 
OSHA Form 300A (Summary form) – all data fields;
OSHA Form 300 (Log) – all data fields except the employee's name; and
OSHA Form 301 (Incident report) – all data fields on the right side of the form (i.e., case number, date of injury or illness, time employee began work, time of event, what the employee was doing just before the incident occurred, what happened, what the injury or illness was, what object or substance directly harmed the employee and the date of death, if applicable). 
A mock-up of the proposed searchable website shows how members of the public would be able to search by company name and view that company's Form 300 and individual incident reports (Forms 301) as well as the establishment's workplace injury and illness profile and summary. 
Reasons Behind Proposed Rule 
OSHA states that providing employers, employees, the government and researchers with better access to workplace injury and illness data will encourage earlier and more effective identification of workplace hazards and enhance efforts to make establishments safer for workers. OSHA also anticipates that this information will help it use its resources more effectively by focusing on industries and workplaces posing the greatest risks to employees. 
Many employers are certain to feel differently.  Particularly troubling to employers may be the public access to injury and illness data and the related misuse of such data by the press and the plaintiffs' bar.  There are also potential risks associated with the breach of employee privacy.  Ironically, public access to this data could ultimately result in an underreporting of incidents or downplaying of the severity of injuries.  Clearly, there are many important policy and legal issues to be addressed. 
Next Steps 
The public has 90 days, through February 6, 2014, to submit written comments on the proposed rule.  On January 9, 2014, OSHA will hold a public meeting on the proposed rule in Washington, D.C.  Please contact us with any questions or concerns.  More information may be found on OSHA's website.   We will keep you posted on developments. 
---
Disclaimer: This article is designed to provide general information on pertinent legal topics. The statements made are provided for educational purposes only. They do not constitute legal advice and are not intended to create an attorney-client relationship between you and Holland & Hart LLP. If you have specific questions as to the application of the law to your activities, you should seek the advice of your legal counsel.